San Diego Deep House Cleaning Services
Giving your home the love it deserves
San Diegos
Top Rated
Maid Service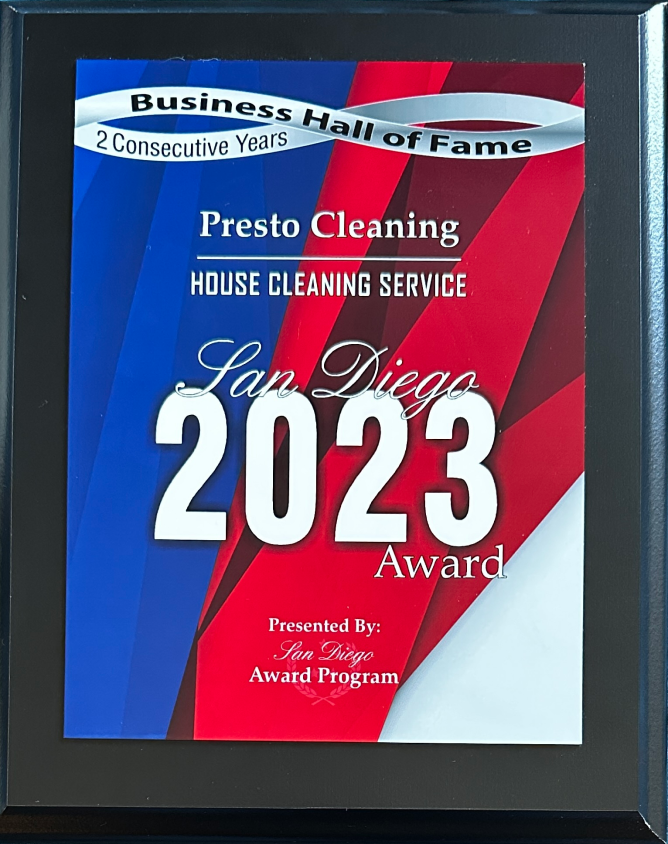 A Deep Cleaning Doesn't Have to Be Overwhelming
Above and Beyond
At Presto Cleaning, we offer deep cleaning services that go above and beyond our usual house cleaning services. For families who are selling their homes, for landlords who are leasing a previously occupied unit or just for a home that needs a good thorough spring cleaning, we offer deep cleaning services in San Diego that fit your needs, schedule and budget.
A Facelift for Your Home
Depending on your needs and requirements, our deep cleaning services give your home a clean new facelift. We will thoroughly address every surface and corner of your home to ensure a clean that you just can't get with weekly or monthly cleanings. These can include:
Presto Makes Deep Cleaning Easy
Some Might Call It Magical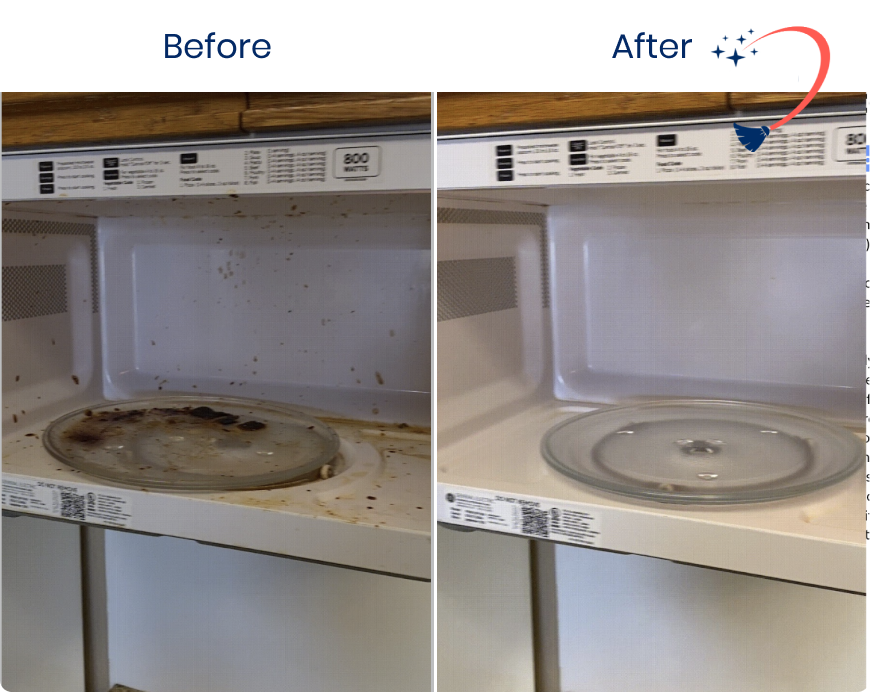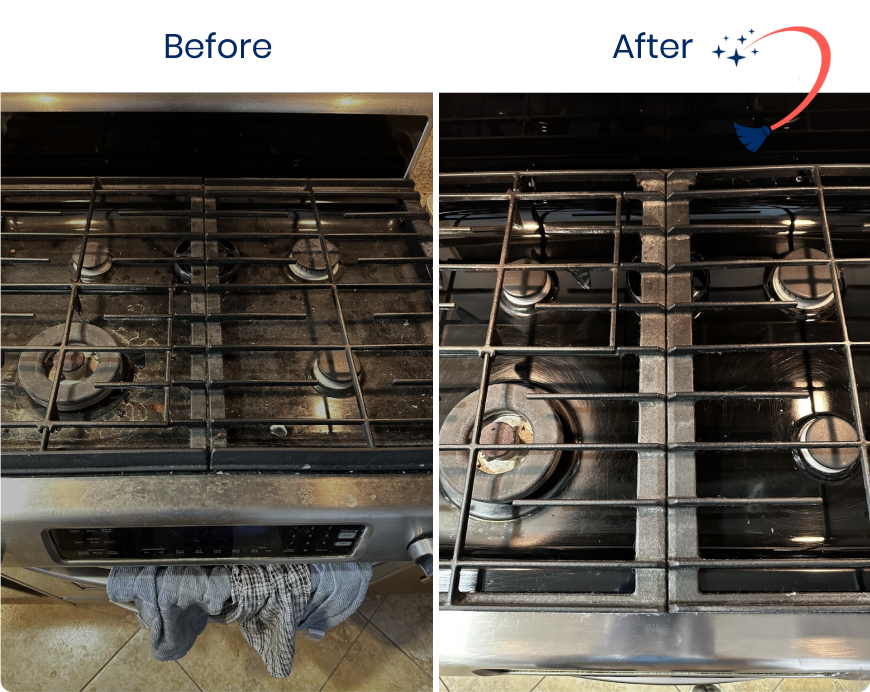 Enjoy A Vibrant Healthy Home
With our deep-cleaning services
Vacuum, Sweep, and Mop All Floors and Rugs
Clean Kitchen Appliances, Surfaces and Floors
Remove Dust & Cobwebs from High Corners
Clean Smudges off Doors and Door Frames
Get Rid of Rust Stains and Mineral Build Up
Wipe Down Baseboards and Horizontal Surfaces
Clean and sanitize the whole bathroom
Sanitize Countertops and Kitchen Surfaces
Base board cleaning for an extra shine
But That's Not All
All Our Deep-Cleaning Follows Our Proven 55-Point Checklist
Kitchens
Bathrooms
Living Rooms
Baseboards
TV/Accessories
Shelves
Items on Shelves
Picture Frames
Mirrors
Tables
Chairs
Lamps Lighting
Vents
Fans
Window Sills
Above Refrigerator
Kitchen Counter
Kitchen Cabinet Faces
Appliances
Microwave
Toaster
Kitchen Sinks
Inside Windows Over Sinks
Dryer Exterior
Washer Exterior
Inside Washer Lid
Bathroom Counters
Bathroom Shelves
Straighten Linens
Trash Cans
Shower Doors
Toilets and Behind
Bathtubs/Showers
Chrome Fixtures
Bathroom Tiles
Bathroom Sinks
Trashcan Liners
Return Mats
Dust Blinds
Make Beds
Straighten Up
Doors & Door Frames
Vacuum Carpets & Floors
Mop Floors
Swiffer
Cobwebs
Vacuum Under Cushions (rotational)
Polish Furniture (rotational)
Sliding Glass Doors (rotational)
Dust Ceiling Fans (rotational)
Empty Closets, Vacuum & Replace(extra)
Interior Windows (extra)
Inside Cabinets (extra)
Inside Refrigerator (extra)
Inside Oven (extra)
Plus More!
To ensure nothing is missed for the most thorough clean Every Time Guaranteed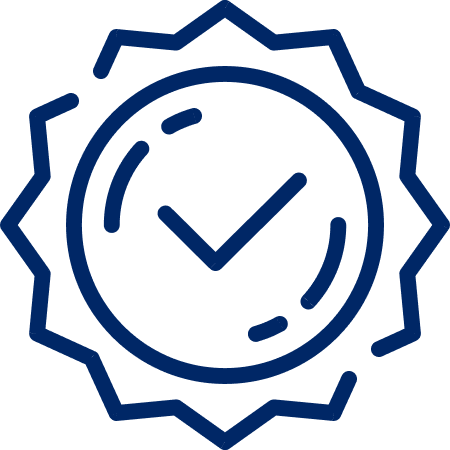 Presto Cleaning Worry-Free Guarantee
Your Clean Is Guaranteed
We take pride in restoring balance to your home. What matters most to us is to make sure you get the results that you can see and feel. If you are not completely satisfied with your last clean let us know within 24 hours and we will reclean that area(s) for free.
We always want to deliver exceptional results that are not only awe-worthy, but guaranteed.
Presto Will Leave No Pillow Or Chair Unturned
A clean & healthy home is important, but we have less time than ever. Why spend that time cleaning your home? Life is short.
BATHROOMS
Your bathroom may harbor a large number of bacteria and viruses. And with so many surfaces in a bathroom, such as the tub, the toilet, the sink, there's plenty of room for dirt and debris to accumulate, especially if you aren't diligently deep cleaning yourself. Fortunately, if you need deep house cleaning services for the bathroom, a member of our team can come to your home and complete tasks such as the following:
Clean tub, shower and sink
Scrub shower walls
Address water spots
Clean under sinks
Sanitize all surfaces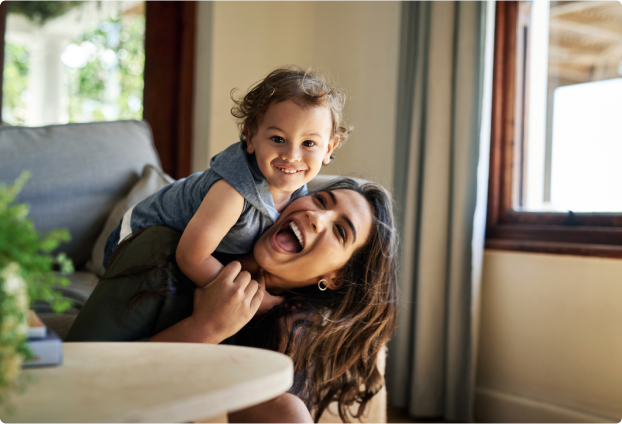 KITCHENS
Surprisingly, the kitchen tends to be the most germ-infested place in your home, even when compared to the bathroom. It's also easy for messes to not be cleaned up all the way while cooking, with the kitchen accumulating grease and dirt throughout its use. At Presto Cleaning, we can deep clean your kitchen surfaces and perform the following tasks:
Scrub grease from walls
Clean out your oven, microwave and refrigerator
Wipe down and sanitize the counters and sink
Clean out cabinetry and pantries as requested
LIVING ROOM
You probably spend a great deal of time in your living room, and it might be the entryway into your home. Dirt can easily accumulate there, and with everyone spending time there, it can be a prime location where viruses and bacteria spread. We sanitize and comprehensively clean the area. Some of the tasks we perform include:
Dust
Mop/sweep/vacuum
Wipe down all baseboards
Remove cushions and vacuum under them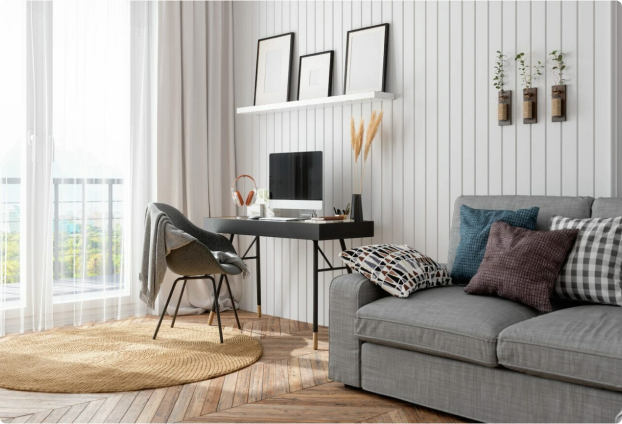 BEDROOMS
You sleep in your bedroom and want to breathe in fresh, clean air all night as you do so. That's why we offer a deep clean house service especially for cleaning bedrooms. Some tasks we perform for this service are:
Clean under bed when possible
Move small furniture
Mop/sweep/vacuum
Wipe down baseboards, windowsills, furniture, light fixtures and blinds
May clean inside the closets, as requested
Dust and wipe down surfaces, such as dressers
What Our Clients Are Saying
Your Happiness is
Guaranteed
Art and the team is amazing professionals cleaners I strongly recommend the service!!! They cleaned everything they saw it was needed and they cleaned very well! I feel grateful
Patricia Sampa
Your Happiness is
Guaranteed
Your Happiness is
Guaranteed
Could not recommend this service more. They did a fantastic job, were friendly and let me know they would need to go over time and the service would cost a little more. Honestly, my bathroom and kitchen needed it and I think it was worth every penny. Very pleased.
Daniel Lazzeri
Your Happiness is
Guaranteed
Your Happiness is
Guaranteed
If you're in need of reliable, deep and detailed cleaning services, I highly recommend Presto Cleaning! Professional, excellent communication, and reliable…. on time. The cleaning service was perfection!!
Angela Drayden
Your Happiness is
Guaranteed
Your Happiness is
Guaranteed
Tom and his team do an amazing job and are very affordable for the quality of work. They are taking the extra precautions for COVID-19 plus making sure my house is clean too! I am a single mother so having them come clean is amazing!
Rosilyn Lindner
Your Happiness is
Guaranteed
Your Happiness is
Guaranteed
Art and the team were very professional and did an outstanding job of cleaning my apartment. Every detail was addressed. My apartment looked and smelled wonderful!!
Bruce "BJ" Stiles
Your Happiness is
Guaranteed
Your Happiness is
Guaranteed
I've been using Presto Cleaning for several months now and have always been very happy. Deron cleaned my condo today and did an absolutely fantastic job….I couldn't be more pleased!
Kristin Riser
Your Happiness is
Guaranteed
Your Happiness is
Guaranteed
I was moving out of an RV that I had lived in for 2 years. They did a great job with a lot of detail. They cleaned vents, vacuumed the carpeted ceiling, cleaned the appliances, windows and screens. I will use these services again. The customer service was great too. Timely. Professional, Clear and wonderful communication.
Caedmon Grace
Your Happiness is
Guaranteed
Your Happiness is
Guaranteed
Tom's team; went above and beyond when I needed a deep clean before I had a houseguest coming to my small apartment. In such a short time, he whipped my apartment into a clean, cozy home! I had been working from home all hours of the day and my place was a disaster. The crew paid attention to detail, and my kitchen was clean, well-organized, and sparkling. Bedroom, living room, and bathroom were also amazingly transformed! I have been able to cook and enjoy my houseguest rather than stressing ou
Sonia Peterson
Your Happiness is
Guaranteed
Your Happiness is
Guaranteed
I was trying to find one box not to check off since giving someone a 5 star rating and checking everything might signal a fake review, but Tom, Presto Cleaning, is all of those things! I been having friends of friends or housekeepers of friends clean my home for years, but I got tired of not being able to count on them or not doing the job up to my standards. That's how I found Presto Cleaning. I also didn't want to pay some of the obscene charges that some big companies charge, and Tom gives a
Shawn R.
Your Happiness is
Guaranteed
Your Happiness is
Guaranteed
Art did an amazing job in my apartment–he was so friendly, he worked hard and fast and my apartment was sparkling clean when he left! Art was super communicative, touching base the day before to confirm my appointment and following up after the fact to ask whether I was satisfied (I was) and if I had any areas of improvement (I didn't!) They were very professional, great with my dog, and I felt comfortable having them in my home. I would definitely hire them again!
Amanda P.
Your Happiness is
Guaranteed
Why our clients continue to work with us
We care about the people we clean for and we treat your home like our home
We take pride in our services and guarantee all our work
We are fully bonded & Insured, so you can have peace of mind
We are professionally trained & vetted cleaners to ensure everything is done the right way
Our success is in the details & we customize our cleaning to match your needs
Locally Owned and Operated
Frequently Asked Questions
When Should I Have My Home Deep Cleaned?
We recommend deep cleaning your home as you see fit. Some people use our home deep clean service twice per year. Others only request it every 1 or 2 years. As a general rule, this is a personal preference as to how clean, tidy and sanitized you want your home. People who have allergies or asthma may want to get a deep home cleaning more often to remove pet dander, dust and other allergens in the air that can cause their allergies to act up or trigger an asthma attack. People who have a weakened immune system might want to opt for a more frequent schedule as well to remove bacteria, viruses and other microbes that can cause illness.
What Is Included in a Deep Clean?
A deep clean is the thorough cleaning of whatever space you desire, whether it be a deep cleaning of your entire house or a single room. The purpose is to clean the surfaces and areas not commonly touched by routine cleaning. During deep cleaning, we get into the nooks and crannies of your home. Part of the deep cleaning process entails sanitizing the area to remove germs that can make you and your family ill. In the process, we also reduce allergens, allowing you to breathe fresher air. And as our staff deep cleans, they also take care of the minor, usual cleaning, such as dusting and sweeping.
Are Your Employees Insured and Bonded?
The safety of the clients we serve and their homes is of the utmost importance. That's why we're insured, bonded, licensed, green and firm certified. Any damage any employee would do is covered, giving you peace of mind that your valuables are protected in the event of an accident. However, we must say that every member of our team tries their very best to reduce the chances of any accidents happening.
How Long Have You Been in Business?
In total, our team has over four decades worth of cleaning experience, which shows we not only know how to clean and clean well but also have a solid reputation in the industry. Residents throughout central San Diego city, including University Heights, Mission Hills, North Park, South Park, Hillcrest and the many other areas we serve trust us with their most valuable possession — their homes. We've proven ourselves time and time again that we complete any cleaning job thoroughly and up to the homeowners' standards.
Do You Have Cleaning Packages?
We understand that no home is exactly like any other in the city. Some people have pets, while others smoke in their homes. On the other hand, children are notorious for making messes, and some people are busy and just don't have the time to sanitize and clean as they go along. This is where our deep home cleaning services come into play. And because no two homes are alike, we offer customizable plans that suit every homeowner's needs, based on what special requirements they have, how often they'd like the service, and which services they desire. The price you pay for your home cleaning service depends on what types of jobs you're requesting. Before you make any commitment with us, you'll receive a free detailed quote. We'll let you know our best price for the job, and you can decide if it's right for you. Keep in mind that the quote we give you includes any equipment or cleaning supplies we're using.
What Makes Presto Cleaning the Best Company for Me?
When you're searching for deep house cleaning services, we stand out because of our dedication and commitment to our clients. They're asking for a clean home, and that's just what we provide.
Plus, we work with our clients to come up with a schedule that fits their needs and desires. We're licensed, certified, bonded and insured, protecting your home in every way we can and demonstrating our devotedness to our clients and the quality of services we provide them. We believe in treating clients' homes the way we would want ours to be treated. For that reason, you can believe we'll perform a thorough job.
And we should note we have Institute of Inspection, Cleaning and Restoration Certification (IICRC) and Association of Residential Cleaning Services International (ARCSI) designations to show we use sound practices and safe cleaning products. Did we mention that we're locally owned and operated? We're not a franchise! We're a group of individuals with home cleaning backgrounds who came together to establish a business, making the lives of people in our area easier. We're also veteran owned and operated.
How Can We Take Care of You?
We not only accommodate your schedule but also your individual fine-tuned cleaning needs. Get a free quote to take back your free time today.