40 Years Of Cleaning Expertise
Professional Cleaning Services in San Diego!
Relax, Let us do the dirty work
Your Maid Service Experts in San Diego.
San Diegos
Top Rated
Maid Service
Fresh Start – Move In Customer Special
Special Deal
SPECIAL OFFER:
Move In To A Clean Home
Get 40% OFF Today For Homeowners
The best time to eliminate the old dirt, allergens, harmful bacteria and grime that can build up in a home over time is when it's empty. We take the stress out of moving into a new home, so you can have the fresh start in your new home worry-free.
Quality guaranteed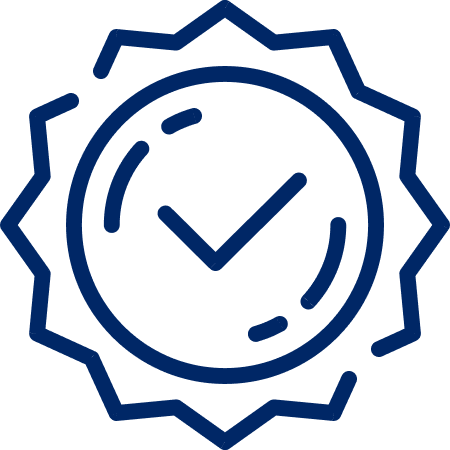 Presto Cleaning Worry-Free Guarantee
We take pride in restoring balance to your home. What matters most to us is to make sure you get the results that you can see and feel. If you are not completely satisfied with your last clean let us know within 24 hours and we will reclean that area(s) for free.
We always want to deliver exceptional results that are not only awe-worthy, but guaranteed.
Simplify Your Life
A clean & healthy home is important, but we have less time than ever. Why spend that time cleaning your home? Life is short.
Get a Free Quote
Give us some general information and we'll get a quote back to you for free!
Book Online
It's easy! Just fill out our online form now to get started and someone will be in touch.
Breathe & Relax
Sit back and let the experts at Presto Cleaning do what they do best.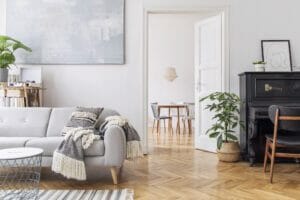 We're Different Than The Rest
Our Success Is in the Details
We take time to listen to you in order to get that perfect clean for you…and then we expand on it. We start with a deep clean that ensures your home is clean from top to bottom. A fresh start. And then, when we return, we rotate in those deep cleaning projects periodically, so your home is always in a state of "fresh start". Our success is in the details. Always.
A Clean Home When You Need It
We understand that you have a busy schedule. That is why having a professional maid service in San Diego can ensure that your home is clean when you need it. We offer weekly, biweekly, monthly or even just occasional cleaning services depending on your unique needs.
Locally Owned and Operated
At Presto Cleaning we are locally veteran owned and operated. We are a group that brings together a diverse skillset and our own personal cleaning secrets so we can ensure that your home is cleaned like it has never been cleaned before. We professionally train each of our cleaners in methods that we have collected over the years in order to make things such as your grout or stainless-steel appliances look fresh and new.
We Take Our Services Seriously
Today, a house cleaner is also entrusted with the health of a home. As an IICRC certified firm, our cleaners understand the use of appropriate cleaning agents and ways to ensure that your home is safe and sanitized. We use only specialized pH neutral products for wood and stone surfaces, and allergy-rated vacuums. With our professionals on the job, your home is safe and clean.
Providing Trust & Comfort
When it comes to cleaning your home, it is all about trust.
That is why more homeowners in San Diego communities trust Presto Cleaning for their cleaning needs. We live here too and believe that our best testimonials are word of mouth ones. Each of our cleaning staff undergoes background checks and full training so you can trust us each time you call us for our cleaning services.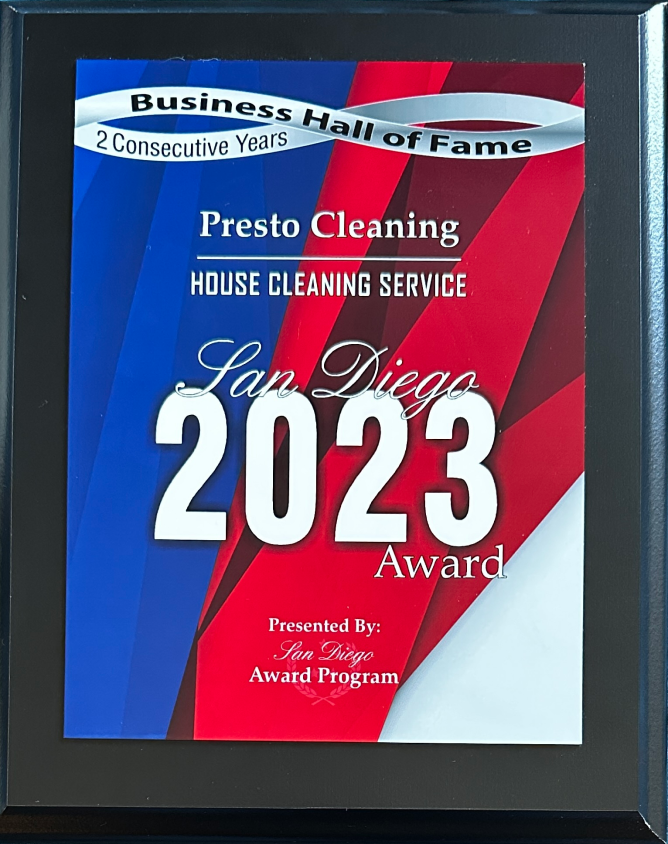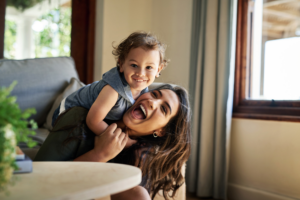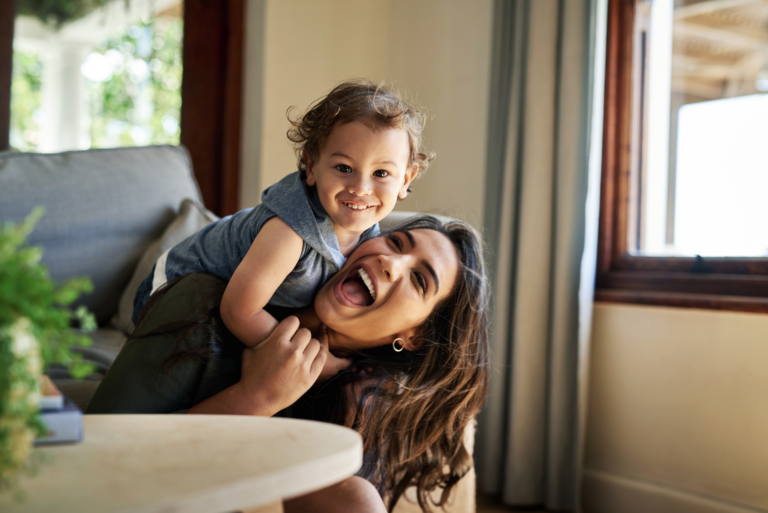 Tailored to Your Needs
In addition to your unique needs, our recurring cleaning services include:
Each surface will be thoroughly dusted, removing all dirt & allergen.
All floors are vacuumed including carpeted areas, tile, & hardwood.
We mop all hard floor surfaces and wipe down baseboards.
We wipe, clean and sanitize; all surfaces in kitchens and bathrooms.
We also empty all trash and tidy the area, straighten rugs and chairs.
Your Happiness is Guaranteed. Click Here to Learn More.
Proudly Serving San Diego
A clean & healthy home is important, but we have less time than ever. Why spend that time cleaning your home? Life is short.
We offer our San Diego cleaning services in the neighborhoods and communities of Adams North, Adams Park, Aero Ridge, Altadena, Azalea Park, Bankers Hill, Birdland, Burlingame, Castle, Cherokee Park, Cherokee Point, Chollas Creek, City Heights, Clairemont Mesa East, Colina del Sol, Corridor, Fairmont Park, Fairmont Village, Fox Canyon, Gateway, Golden Hill, Harborview, Hazzard Center, Hillcrest, Hollywood Park, Islenair, Kearny Mesa, Kensington, Linda Vista, Loma Portal, Marston Hills, Midtown, Midway, Mission Hills, Montclair, Morena, Normal Heights, North Park, Ridgeview, South Park, Swan Canyon, Talmadge, Teralta East, Teralta West, University Heights.
We are open Monday through Friday 8 a.m. to 5 p.m.
For additional questions you can call us at 619-366-0886 or you can find us on Cleaning Service Reviewed.
What Our Clients Are Saying
Your Happiness is
Guaranteed
I was moving out of an RV that I had lived in for 2 years. They did a great job with a lot of detail. They cleaned vents, vacuumed the carpeted ceiling, cleaned the appliances, windows and screens. I will use these services again. The customer service was great too. Timely. Professional, Clear and wonderful communication.
Caedmon Grace
Your Happiness is
Guaranteed
Your Happiness is
Guaranteed
Art and the team were very professional and did an outstanding job of cleaning my apartment. Every detail was addressed. My apartment looked and smelled wonderful!!
Bruce "BJ" Stiles
Your Happiness is
Guaranteed
Your Happiness is
Guaranteed
Tom's team; went above and beyond when I needed a deep clean before I had a houseguest coming to my small apartment. In such a short time, he whipped my apartment into a clean, cozy home! I had been working from home all hours of the day and my place was a disaster. The crew paid attention to detail, and my kitchen was clean, well-organized, and sparkling. Bedroom, living room, and bathroom were also amazingly transformed! I have been able to cook and enjoy my houseguest rather than stressing ou
Sonia Peterson
Your Happiness is
Guaranteed
Your Happiness is
Guaranteed
Thoughtful, considerate, prompt, thorough, professional, responsive, everything you're looking for from any kind of business, will be using them again.
John Williams
Your Happiness is
Guaranteed
Your Happiness is
Guaranteed
Tom's team has been cleaning our apartment for about 6 months and they do a great job! Tom sends a reminder the day before indicating the exact time that they'll arrive. They've taken a big burden off of me and I'm super happy with their services.
Greg Devlin
Your Happiness is
Guaranteed
Your Happiness is
Guaranteed
I was trying to find one box not to check off since giving someone a 5 star rating and checking everything might signal a fake review, but Tom, Presto Cleaning, is all of those things! I been having friends of friends or housekeepers of friends clean my home for years, but I got tired of not being able to count on them or not doing the job up to my standards. That's how I found Presto Cleaning. I also didn't want to pay some of the obscene charges that some big companies charge, and Tom gives a
Shawn R.
Your Happiness is
Guaranteed
Your Happiness is
Guaranteed
Art and the team is amazing professionals cleaners I strongly recommend the service!!! They cleaned everything they saw it was needed and they cleaned very well! I feel grateful
Patricia Sampa
Your Happiness is
Guaranteed
Your Happiness is
Guaranteed
Tom and his team do an amazing job and are very affordable for the quality of work. They are taking the extra precautions for COVID-19 plus making sure my house is clean too! I am a single mother so having them come clean is amazing!
Rosilyn Lindner
Your Happiness is
Guaranteed
Your Happiness is
Guaranteed
We've had Presto Cleaning do monthly cleanings of our home for the last 4-5 months and couldn't be happier. Tom replied to my initial on-line request for an estimate within a couple hours and was professional, thorough, and caring. Our home cleanings have also been professional and thorough, and the team has been super responsive to my requests for things that need a little extra attention. Deron, our primary cleaner these last couple of months, is particularly dedicated, caring and good natured
Theresa Talley
Your Happiness is
Guaranteed
Your Happiness is
Guaranteed
Could not recommend this service more. They did a fantastic job, were friendly and let me know they would need to go over time and the service would cost a little more. Honestly, my bathroom and kitchen needed it and I think it was worth every penny. Very pleased.
Daniel Lazzeri
Your Happiness is
Guaranteed